Belt sanders have a wide range of applications in the grinding and polishing industry. In industrial automation, belt sanders have various structures. Most belt sanders for robotic grinding/polishing applications are fixed on the ground, and the robot grips the workpiece for grinding and polishing operations.
When the size or weight of the workpiece to be ground is large, the only solution is to fix the workpiece and let the robot grasp the belt sander. The belt length of such tools is usually short, frequent tool changes are required on automated production lines, and there is no force control function, so it is difficult to guarantee the stability of the grinding process.
Patented Design - Intelligent Replaceable Force Control Belt Machine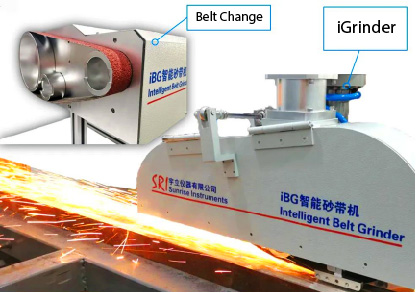 SRI independently developed the industry's first publicized intelligent replaceable force-controlled abrasive belt machine (Patent No. ZL 2020 2 1996224.X), which is very suitable for the application of robot grasped abrasive belt for grinding and polishing.
Product advantages
Floating force control: Integrated iGrinder, superior floating force control, better grinding effect, more convenient debugging, and more stable production line process.
Automatic replacement of abrasive belt: with a special structural design, the abrasive belt can be replaced automatically. One belt sander realizes multiple production processes.
Gravity compensation: The robot can ensure constant grinding pressure when grinding in any posture.
Belt tension compensation: The grinding pressure is controlled by iGrinder, and the belt tension does not affect the grinding force.
Integrated displacement sensor: intelligent detection of grinding amount.
Specification
Total weight: 26kg
Force range: 0 – 200N
Force control accuracy: +/-2N
Floating range: 0 – 25mm
Displacement measurement accuracy: 0.01mm
Belt Grinding Capacity: 2 - 3kg stainless steel (use 3M Cubitron Belt)
As an independent force-controlled grinding system, this solution is free from the dependence on robot force-controlled software. The robot only needs to move according to the intended track, and the force control and floating functions are completed by the grinding head. The user only needs to input the required force value, which greatly shortens the debugging time and can easily realize intelligent force control grinding.
Contact us for more information about iGrinder!
*iGrinder® is an intelligent force-controlled floating grinding head with patented technology of Sunrise Instruments (www.srisensor.com, referred to as SRI). The front end can be equipped with a variety of tools, such as air grinders, electric spindles, angle grinders, straight grinders, belt grinders, wire drawing machines, rotary files, etc., which are suitable for different application scenarios.
---